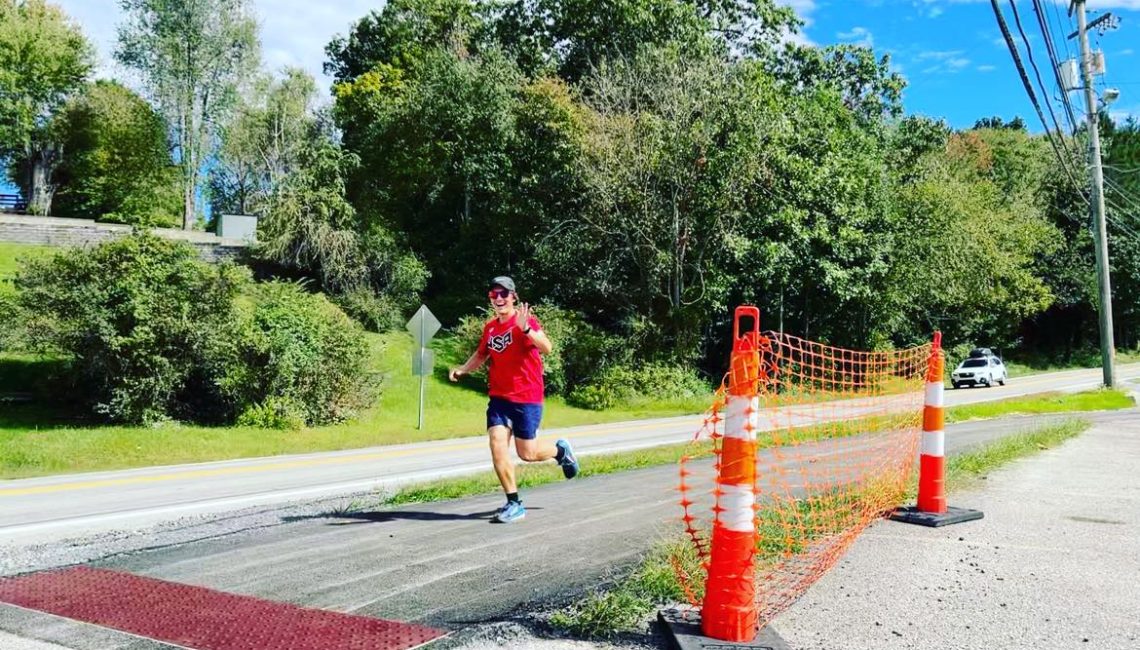 A freshly completed walk trail now connects downtown Bridgeport with Hinkle and Deegan Lakes.
"We started this project a year ago, writing grants and the city itself wrote grants, so it's been a combined effort," said Bridgeport Parks and Recreation Director Joe Shuttleworth. "We received these transportation grants through the state and that goal was to provide a safe walking corridor between the lakes and the existing trail on that side of town."
Starting at the Route 58 intersection, a walk/bike lane runs parallel to Virginia Avenue all the way to just above The Square shopping plaza. From there, those utilizing the trail can cross Virginia Avenue and use the sidewalks leading to West Main Street.
Parks and Recreation was involved in the grant writing and design phases of the project, but the city engineering department took over with the construction phase. Both the lane along Virginia Avenue and the sidewalks are freshly paved.
"They're just trying to finalize everything now, painting all the crosswalks and warning signs," Shuttleworth said.
As with most everything, there has been a slight delay as the rights of way had to be worked out for stretches of trail crossing private property.
City Engineer Beth Fox said the project included securing the property acquisitions, creating the trail along Virginia Avenue, paving it, building a retaining wall, and replacing sidewalks on the opposite side of the street, as well as upgrading the drainage system.
She said the city is pleased with the trail extension.
"Mountaineer Contractors did a great job. Building the retaining wall was pretty tedious, but it went pretty smooth," she said.
To access the trail, cross Main Street onto Virginia Avenue, taking sidewalks and crossing Virginia Avenue at Foley Street.
"Once crossing, it accommodates for ADA a little 90-degree turn, pavement marking and signage. That's where the trail starts," Fox said.
Though some cleanup work remains, Fox said the trail is open and people have been utilizing it.
"We hope it is enjoyed," she said.
Fox said she is working with the state to perform a traffic study at the Route 58/Hinkle Lake Road intersection to see if a three-way stop would provide additional safety for pedestrians.
The trail extension is yet another project intended to make the city more appealing and to benefit its residents.
"I think we've taken many steps over the years to try to make our community as walkable as we can. We have a huge recreation area with the lake and walking trail, and we've talked for years about ways to try to connect areas of the town," Shuttleworth said. "This is just another great feature we can offer to the citizens."
The next phase, Shuttleworth said is connecting Compton Park to The Bridge Sports Complex via the city trail system.