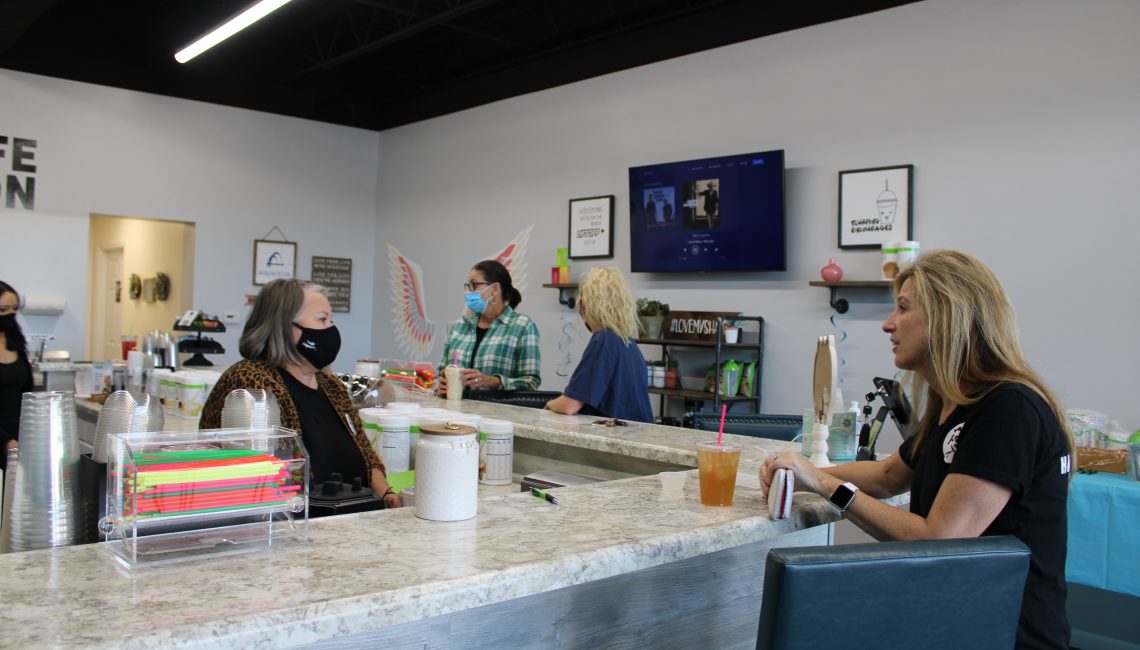 Bridge Nutrition at The Square @ Bridgeport kicked off the weekend with a grand opening. It was a busy scene Friday as community members stopped to welcome business owners Dena and Wade Milner and to order an herbal or special tea, iced protein coffee, shake or smoothie; all meal replacements packed with vitamins and nutrients.
Dena Milner, who was busy whipping up drinks – flavors ranging from apple crisp to tropical paradise – said she is thrilled with Bridge Nutrition's first official day after a week-long low-key, soft opening.
"Everyone has been so supportive," she said, adding that neighboring businesses have rolled out the welcome mat and are helping to promote The Square's newest tenant. "It's just been amazing."
Located on South Virginia Avenue, The Square also houses Insight Astronomy, Champion Pharmacy, Fat Tire Cycle & Sport and Dollar General. Milner said it's a great community of businesses and she believes hers is a good fit.
"Everything we do is going to work hand in hand for the betterment of the community of Bridgeport," she said.
Featuring Herbalife products, the healthy shakes, smoothies, teas and coffees offer a healthy option for breakfast, lunch or dinner, she said.
"We have something for everyone," Milner said. "Toddlers come in and get a meal replacement shake and think they are just having a milkshake. It tastes great, but they are also getting the vitamins and minerals they need."
The couple, who own stores in Morgantown and throughout Ohio, said they were drawn to Bridgeport because of the athletic presence and health consciousness.
Displayed throughout the store are Herbalife products available for purchase, including vitamins, cell activators, skin care products and an athletic line.
The new store – which features a sit-down bar, high-top table, country music and finishing touches, such as photo op angel wings – is just as they envisioned it.
Bridge Nutrition is open 7 a.m. to 7 p.m. Monday through Thursday; 7 a.m. to 5 p.m. Friday, 8 a.m. to 4 p.m. Saturday and 10 a.m. to 3 p.m. Sunday.
The Milners have three employees and already have plans for further expansion.
"We want to give other people opportunities to build their own businesses and help their own families in their communities," Dena Milner said.
Read Jeff Toquinto's July 2020 story about the proposed opening of Bridge Nutrition 
HERE
.