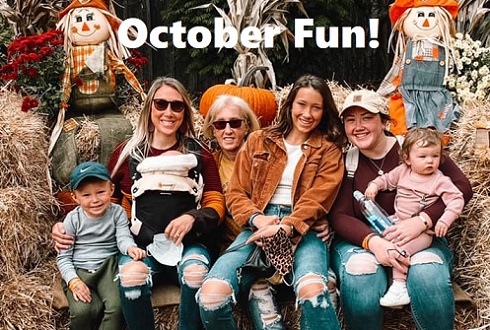 It's a twisted year with lots of unexpected – and even spooky – turns, but your favorite Halloween-time attractions are open, though altered for the 2020 season.
The Fright Farm in Smithfield, Pa. – just minutes from Morgantown – is open for its 31
st
season. Due to Covid-19 regulations, the entire production is outdoors this year and daily tickets are limited. The farm features a haunted house and, as always, characters will be popping up to creep you out. The tour, including the infamous corn maze, lasts an hour plus. Visitors are promised a horrifying experience. It is highly recommended purchasing tickets in advance at frightfarm.com. Masks are required, social distancing practiced, and sanitizing is frequent. Thursday is discount night, offering reduced rates to students, senior citizens, first responders and more. Get more information at
frightfarm.com
 or by calling 724-564-7644.
Also on the premises is Rich's Farm, open for the season with a great selection of pumpkins for the picking. There's also a maze, kids' activities and a scenic tractor-pulled wagon ride to the pumpkin patch. Visitors will come across some seasonal characters, but these are cute, not scary. Learn more at 
richfarms
.com or by calling 724-564-7644.
Always a hot spot this time of year, Trans-Allegheny Lunatic Asylum in Weston is open to share plenty of paranormal phenomenon. Face masks are required inside and on the grounds. There is a designated smoking and eating area where visitors can take a break from the masks. The former Weston State Hospital – home of the mentally ill during the mid-19
th
 century – holds plenty of interesting history. Some claim to see glimpses of the past during their tours. Thousands flock to the TALA to experience it all for themselves. For more information, visit 
trans-alleghenylunaticasylum.com
 or call 304-269-5070.
In Buckhannon, Maniac Mountain is dredging up bone-chilling experiences for visitors. A hayride to the hanted mountaintop starts the scary excursion that continues through an abandoned house occupied only by remains of a lust-inspired murder, then a cornfield where spirits come alive after dark. Costs range from $25 to $50. For hours and details, visit Maniac Mountain's Web site 
HERE
. Sat., Oct. 17 is Spooky Kids Day. Maniac Mountain Haunted House is located at 1659 Teter Road in Buckhannon.
Closer to home here in Bridgeport, a pair of pumpkin farms are enthusiastically welcoming guests. The Pumpkin Farm at Saltwell is open after a 22-year closure. Second and third generation pumpkin patch enthusiasts are in their glory as parents and grandparents show off the pumpkin farm of years past, complete with its unique pumpkin pyramid and gardens of harvest, including some massive pumpkins. On occasion, there has been special music, a locally-written book reading/signing and food truck service. Read more about The Pumpkin Farm at Saltwell in a Connect-Bridgeport/Greater Bridgeport CVB feature 
HERE
.
Brand new this year is the Edge of Town Market on Anmoore Road. Farm owner/operator Jason Poth built his market structure from the ground up, completing his vision to open his farm to the public. Saturdays feature hayrides to the pumpkin patch where folks can pick from the vine. On both Saturday and Sunday, there are pumpkins, corn stalks and hay bales for sale, as well as Poth's own grass-fed beef. Various vendors are on site, selling everything from bakery products and quilts to country boutique specialties and bison meat. Read more about The Edge of Town Market in a Connect-Bridgeport/Greater Bridgeport CVB feature 
HERE.
Meadowbrook Mall is hosting some of its own festivities. Learn more 
HERE
.
Of course, Bridgeport is the perfect location to base your October adventures in North Central West Virginia For lodging opportunities, click 
HERE
.
For Bridgeport shopping, dining and recreational opportunities, click 
HERE 
to download our brand new Visitors' Guide.