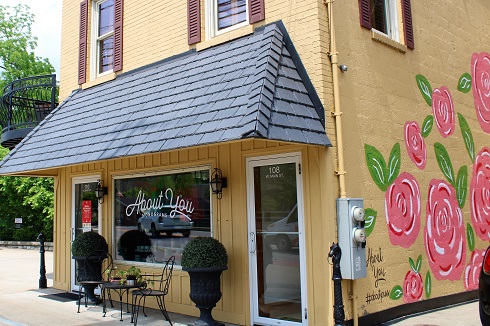 About You Monograms owner Lisa Lang said she will be moving her store to 106 East Main Street, which housed the 2022 Mistletoe Holiday Market Shoppe.
The building, owned by the Langs and formerly occupied by GAL Land Company, provides not only a larger space, but with its massive show windows and pillared front exterior, is most welcoming as a retail business. In fact, the building was constructed in 2004 as Embellishments Too, a gift shop owned by former Clarksburg Mayor Cathy Goings.
About You Monograms opened in March of 2016 at 110 West Main Street. The boutique features custom embroidered apparel and other items, as well as a wide variety of gifts, jewelry, baby items, and special occasion items. In 2021, Lang debuted her Mistletoe Holiday Market, 
specializing in holiday and gift items, and housed in a giant white tent in the About You Monograms parking lot. In 2022, she moved the holiday market to 106 East Main. and decided to move all operations into that building.
Leading up to the move, Lang is offering 60 percent off remaining holiday items and 50 percent off all other merchandise. Stay tuned to Connect-Bridgeport for further details.
Editor's Note: Pictured top is About You Monograms at 110 West Main Street and left, the store's new home at 106 East Main Street.