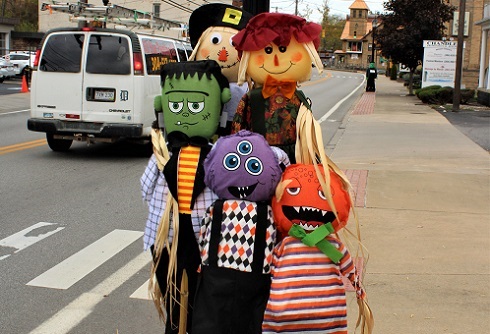 This is the 10th anniversary of Bridgeport's Main Street scarecrow display. In true celebratory style, the whimsical creatures will soon be at their posts.
Last year, it was Bridgeport Physical Therapy that nabbed the traveling trophy, creating the scarecrow that drew the most public vote here on Connect-Bridgeport.
Who will it be in 2020? Time will tell.
During the month of October, ABB member businesses will display scarecrows, securing them to lamp posts as assigned by the ABB. The deadline for the placement of scarecrows is Oct. 10.
The winning character will be determined through a vote poll conducted by Connect-Bridgeport, which will run Oct. 12 through Nov. 1. All scarecrows must be removed by Tues., Nov. 3. The winner will be announced on Connect-Bridgeport Thurs., Nov. 5.
Started in 2010, the Halloween-inspired display has become tradition as ABB members tap into their creativity to design, construct and dress characters inspired by the specialty of the host business, pop culture trends or seasonal elements.
"I think it's exciting every year," said Hilary Gonzalez of the ABB board of directors, heading up the scarecrow project. "The displays are on Main Street for everybody to see and I think it's exciting for the children to look out their car windows and for the people who walk downtown Bridgeport."
Perhaps this year, folks will enjoy it even more.
"I think it's going to be a little more special this year because people have been cooped up and the changes that have taken place with the businesses," Gonzalez said. "It's going to be even more exciting this year to see those scarecrows."
Gonzalez said the ABB is always impressed with the characters displayed. Each year, new unique characters join the collection. Some businesses feature the same scarecrow from year to year – and she said that's kind of special, too.
In 2019, the scarecrow display featured 36 characters, the most since the tradition began.
The Associated Businesses of Bridgeport is an active organization which focuses on connecting Bridgeport businesses and building a strong business community.
The organization hosts spring and fall meetings featuring guest speakers who provide useful information to member businesses. The ABB also hosts Bridgeport's Summer Kickoff and Food Truck Festival and co-hosts the annual Light Up Night.
Any Bridgeport business not already a member of the ABB can secure membership by paying $95 annual dues and completing paperwork.
Dues-paying ABB members will be receiving emails with instructions for the scarecrow display.
For more information, contact Gonzalez at hilary@kaufmanrealty.com or 304-677-1970.