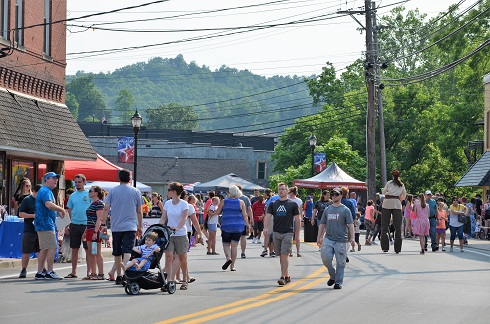 It's back.
After two successful years and one pandemic-related cancellation, the Bridgeport Summer Kickoff & Food Truck Festival is back for 2021.
"With the city's enthusiastic cooperation, the Associated Businesses of Bridgeport is happy to announce the return of the summer kickoff," said ABB President Doug Marquette. "Once Governor (Jim) Justice lifted the ban on gatherings and the COVID vaccine became available, we decided it was safe and that our residents needed to see each other and celebrate the upcoming summer season."
The event is scheduled for 5-8 p.m. Saturday, June 5. Main Street will be closed to traffic between Virginia Avenue and Philadelphia Avenue, where food trucks and entertainers will be located. Maple Valley Meat Market, Heavenly Hoagies and Kona Ice are currently on board and others are invited to participate.
As has become tradition, representative musicians from 1980s tribute band "Eighties Enough" will deliver everything from "Journey" to "Prince."
Tables and chairs will be set up along Main Street for folks to sit and enjoy a bite to eat and some festive music.
A new feature of the 2019 event was the classic car cruise-in which will again be part of this year's summer kickoff. Cars will be lined up between Bridgeport Fire Department and Benedum Civic Center.
Always popular with children, the Giant Sandbox will be making its return as well.
Planning is still in the early stages and more details will be released in the coming weeks, but the ABB hopes residents will mark their calendars and plan to kick off summer 2021 with their Bridgeport friends and neighbors.
ABB member businesses wishing to participate by hosting an activity or providing giveaways can contact Lisa Lang galbds@aol.com.
"People need people," Marquette said. "I can't think of a better reason to get together than to kick off the summer season."