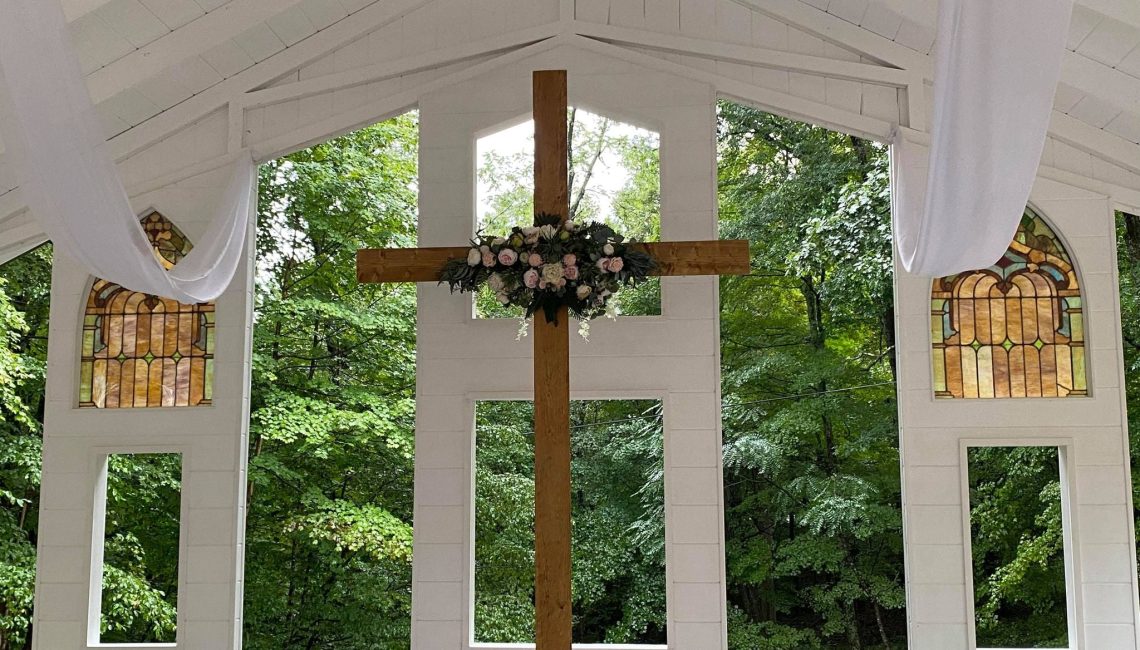 The Valley Falls Open Air Chapel is the area's newest wedding venue.
"It offers the best of both worlds; protection from the elements, but outside with the sound of nature," said Shannon (Hays) Tran, part owner. "The stained-glass windows make you feel like you're in a little chapel in the woods."
The chapel was just built this year on the property which Tran and her sister Keri (Hays) Snell purchased during the summer of 2020.
At that time, the only structure was the Valley Falls Reception Center, a reception hall constructed of block walls and cement floors.
"They were renting it as a wedding venue and there were already a couple weddings booked for September/October of 2020," Tran said.
She and Snell immediately wanted to upgrade the center, adding some feminine touches to make it more appealing. It was done quickly and involved the whole family – parents, husbands, brothers and even the kids.
"We laid down a new floor and framed up walls," Tran said. "My daughter painted literally miles of white shiplap."
The brides who had already booked the venue were pleasantly surprised.
"They had seen gray concrete floors and when they came back, they saw a bright, clean, classic-looking space with white/gray decorative floors, floor-to-ceiling off-white shiplap. It was the perfect backdrop for decorating."
The building features a 3,000-square-feet reception room.
"The unique thing is there is a span truss in the ceiling, so there are no support beams, providing a wide-open room and you can see everything that is going on," Tran said.
There is also a kitchen, bathrooms, a bridal suite which has gotten rave reviews and a 60-foot deck, perfect for cocktails between the ceremony and reception.
Now known as the Valley Falls Center, the venue is ideal for weddings, as well as reunions, birthday parties and anniversaries or celebrations of any kind, Snell said.
Within a year of purchasing the property, the sisters entered phase 2 of their plan.
"We had remodeled inside the reception center, and it was really nice, then we needed somewhere people could have an outdoor ceremony," Snell said.
They weren't certain of the design, but they had a vague vision. It would be made of shiplap, oak – and as it turned out – stained glass windows.
Snell saw on Facebook Marketplace that a Clarksburg church had been torn down and the stained-glass windows were for sale. So, of course, she went and looked at them, bringing back six which she had hand-picked.
The girls bounced ideas off contractor, Jimmy Edwards, who seemed to understand their vision.
Featuring partial walls on two sides and two sides wide open, the structure went up quickly.
"They painted it white for us and installed a patio area," said Tran.
The next addition was a pond which will eventually contain lilies and magnificent, showy lotus flowers.
Landscaping is still in progress, but the chapel is in use. It holds 150 people and with the surrounding outdoor space it can accommodate many more. There is also an observation deck at the center from which weddings can be viewed.
Snell lives in Bridgeport and Tran lives in Southborough, Mass. The girls grew up in Taylor County, part of a big family who loved gathering for celebrations. They are happy to provide a venue ideal for those types of occasions.
Follow the Valley Falls Center on its Facebook page. It is located at 5487 Country Club Road in Grafton. To book or make inquiries, call 304-808-1080 or email events@valleyfallscenter.com. Bookings have already been made into 2022 and 2023.
Snell is also part-owner of House of Fashions bridal boutique in Charles Pointe, Bridgeport. Between she and Tran, they have 10 years experience in the bridal industry. They keep costs low, offering the venue below market cost as a way to invest in their community, they said.
Coming soon to Connect-Bridgeport is a feature about the expansion of House of Fashions.