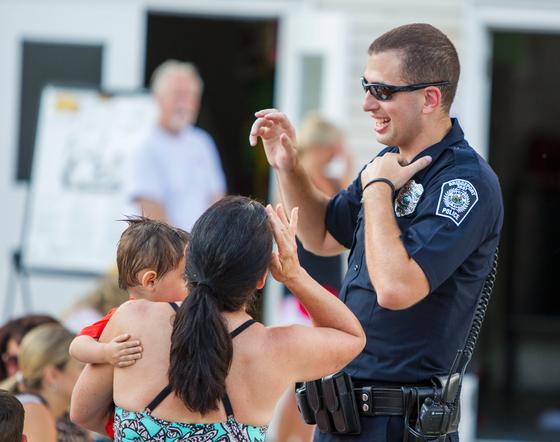 UPDATE: National Night Out brought in a couple thousand area residents who enjoyed activities, free food and other treats provided by area businesses and organizations. See plenty of photos by Ben Queen Photography
HERE
(Gallery 1) and
HERE
(Gallery 2).
National Night Out will take place for the first time at the Bridgeport Rec Complex's outdoor facility. Police Chief John Walker said most of the activity will be held in the utility field beside the baseball fields at the complex and will run 6:30-9:30 p.m.  Tuesday, August 3.
"For years one of the focal points of the event was the free use of the pool so with us moving from the Benedum Civic Center and the pool we really wanted to focus more on the entertainment," said Walker. "We think this is going to be a lot of fun for everyone."
The upgrade on the entertainment front includes bringing in a band from Pittsburgh. The group No Bad Juju will perform for those gathered.
"We're extremely excited this band coming in out of Pittsburgh to entertain for the evening," said Walker. "We are encouraging people to bring their lawn chairs for the entertainment."
The music is one of many features of National Night Out that falls on the entertainment side of things. There will be multiple vendors offering food and drink, door prize drawings, a "giant slip'n slide, balloon artists, face painting for the kids, bounce houses, and more.
Another big part of the show that should have locals excited is how the event will end. Walker said the show will conclude with fireworks that should be in a pristine location for viewing.
"We've done it two other times, but it was difficult to see from the Civic Center and pool area," said Walker. "That shouldn't be a problem this year."
As always, everything is free. National Night Out is an annual community-building campaign that promotes police-community partnerships and neighborhood camaraderie. It has drawn crowds well into the thousands in the past when it was at the Civic Center and city pool.
Along with the Bridgeport Police being on hand to interact with the public, Walker said he hopes to have other first responders on hand. The chief said invitations will also be sent for other local, state, and federal departments to have representation at the event.
Editor's Note: Multiple Bridgeport Police Officers, such as Chief John Walker shown in the second photo, will be on hand along with other law enforcement agencies. Fun, such as face painting will also be part of the event. Photos by Ben Queen Photography.