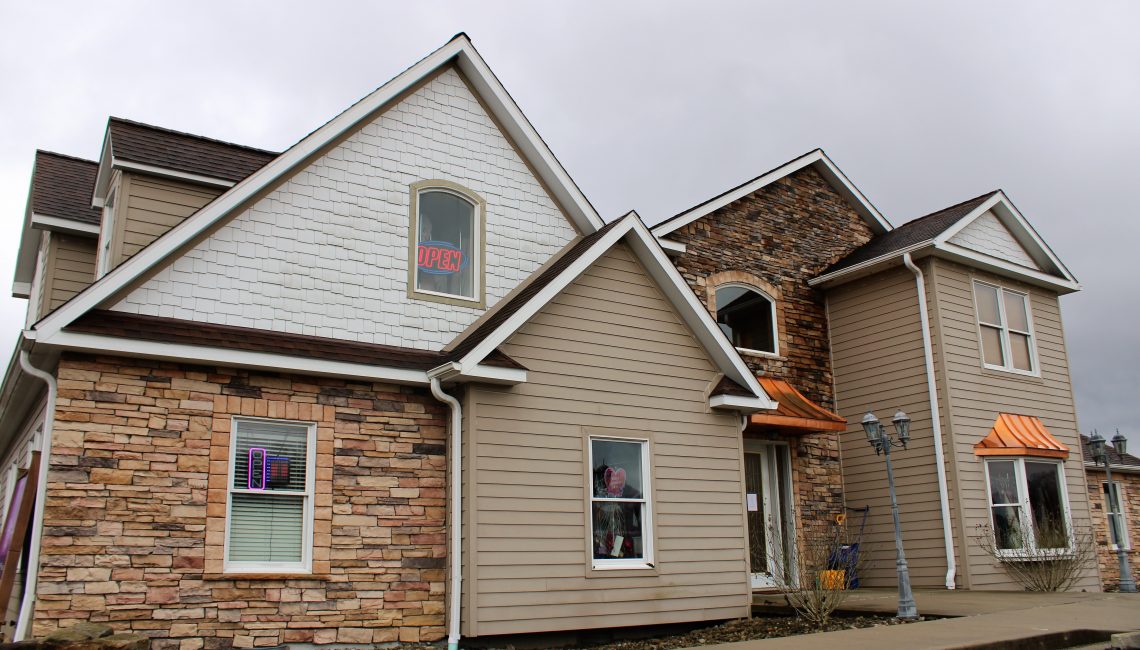 The home of more than 1,000 formal gowns, House of Fashions is where prom and bridal dreams come true. Located in Charles Pointe, the boutique is owned by Keri Hays Snell and her mother Lisa Hays. Keri, who spent years competing in pageants, is the buyer and has a knack for finding just the right dress for every occasion and preference. Lisa, who made pageant gowns and school dance gowns for Keri and her sister Shannon, has the seamstress expertise for making the dresses fit just right.
It's a partnership; one based on family history and a shared passion.
"We always talked about having a store," said Keri. "And Dad said that was fine, but I was going to college first."
After graduating from Grafton High School, she attended West Virginia University to study engineering. With that degree, she worked briefly for Johnson Controls in York, Pa.
A year later – out of the blue – came the first serious talk about establishing the retail store.
"My dad said if we were going to open a business, we needed to do it," Keri said.
With land secured in Charles Pointe – which at the time included only Cubby's Child Care Center, a bank and a couple office buildings – the next steps were to acquire the fashions and a building to house them.
The mother-daughter duo began to build their base of formal wear by attending prom and bridal markets, including those in Chicago and Atlanta.
"You get the opportunity to walk around, see samples, talk to company reps and see what works for you," Keri said.
Dale, Keri's dad and Lisa's husband, took it upon himself to locate a unique building.
After Grafton Homes went out of business, the sample homes were auctioned off. He purchased the one located in Fairmont, which served as the main office.
It was a major project to move the place, but it was ultimately worth it.
"We used three different companies; one to disassemble it, another to move it eight or nine miles by tractor trailer and a different company to reassemble it," Keri said. "Each company was very specialized."
Room by room – those modeled to represent kitchen, bedrooms, living and family areas – were freshly painted. Thereafter, inventory was moved into the homey atmosphere.
"Mom's whole thing was that a building that looked like a house would be more inviting to women and make them feel more comfortable opposed to a big steel building," Keri said.
As it was constructed to give prospective homeowners various design ideas, the flooring varied from room to room, featuring everything from stamped cement to hardwood.
The prom show room, Keri said, was modeled after a three-stall garage.
In 2010, House of Fashions opened for business and the formal outfitting began as girls traveled for up
to hundreds of miles to slip into pieces by Sherri Hill, Jovani, Ellie Wilde, Rachel Allan and other famed designers.
It's a different process for finding a prom/homecoming dress for a teenager and a wedding gown for a bride-to-be.
"There is a different array of questions because you are dealing with two different audiences," Keri said.
Typically, when the teens arrive in pursuit of a dress for a special dance, they have scanned social media sites for prospective gowns and captured photos on their phones. Keri, Lisa and their staff members offer those dresses and others similar in style.
"Sometimes the girls are spot on with what they think they want and other times, we'll show them something perhaps by a designer not as well known and they will love it," Keri said.
All prom/homecoming gowns are stocked, ranging in size from 00 through 30. There is certainly something for everyone.
Bridal gowns, however, need to be ordered. The store carries roughly 100 in a gamut of styles and sizes.
"We measure them and order the size and color they require," Keri said.
After a bride-to-be makes her decision, the dress is ordered in her size with Melissa performing any desired alterations.
Interesting enough, most brides – up to 90 percent of them – wind up ordering a gown very different from what they originally thought they wanted.
Also interesting to note is – contrary to popular TV shows – there's not often an entourage of friends and family members accompanying the bride-to-be on her quest for the dress. And when the ideal gown is found, there are usually no tears, Keri said.
"I'd say in 10 years of dressing brides, I've had maybe three of them cry over a dress," she said.
But it certainly is an occasion to celebrate and brides love getting their picture taken in front of the "say yes" wall, a fairly new element at the boutique.
House of Fashions is open regular hours for prom fashion browsing. Brides are asked to make an appointment. All shoppers are assisted while making their selections, making sure zippers and buttons are handled properly and dresses are kept clean and in good care. Yet, customers are given their space and time to make decisions which are personal to each.
For Prom 2020, sequins and ballgowns typical of the 1990s, have made a comeback.
"We're also seeing some two-piece dresses, though they aren't as big as they were a couple years ago," Keri said. "The other side of the trend is completely plain dresses, not a single piece of beading or sparkle; just plain matte fabric."
Also hot for 2020 is an influx of bright neon shades, as well as soft subtle yellow, lilac and periwinkle.
As for brides, the new decade is seeing tulle and silk ballgowns, off-the-shoulder necklines and cathedral-length veils. Also trending are simple sheath-style gowns of crepe and some featuring knit lining to hug the body.
In addition to dresses, House of Fashions carries shoes, accessories, jewelry and head pieces. And for the guys, the boutique fits them for tuxedos, also available in a range of styles.
"As we do with the girls, we take just as much pride making sure the guys find the right tux and is fitted properly," Keri said.
House of Fashions continues its journey into a third generation. Keri and Patrick Snell's kids, 4-year-old Scotlin and 1-year-old Cian go to work with their mom every day. As can be seen above, Scotlin  loves looking at the dresses and seeing the girls when they come in for fittings.