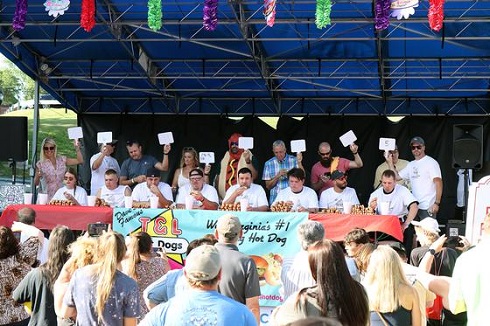 Just a couple weeks out from the 2023 Summer Kickoff and Food Truck Festival, details are falling into place and there are plenty of ways to get involved.
Sponsored by the Associated Businesses of Bridgeport, the annual event is scheduled for 5-8 p.m. Saturday, June 3 on Main Street, Bridgeport. Regional band "Eighties Enough" will again provide entertainment on the main stage at Main and Center streets with additional performers and several food trucks along Main. The event will also feature a giant sandbox, seasonal kids' activities, inflatables, and DJ Benton "BHos" Hoskinson.
Back for the second year – and bigger than before – is the Big Dog Eating Contest, sponsored by Dave's Famous T&L Hot Dogs.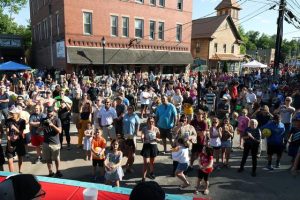 "We are very excited for this year's edition of the contest," said Troy Rutherford of Dave's Famous T&L Hot Dogs and the ABB Board. "Last year was our first time bringing the competition to the ABB Summer Kickoff event. We had a lot of positive feedback from community members who enjoyed watching. We have high hopes for this year and are excited to reward our champion with $500 dollars from Dave's Famous T&L Hot Dogs and the ABB."
Up to 10 contestants will be chosen to compete in the contest. Contestants will compete against each other in a timed event. The object of the competition is to eat as many Dave's Famous T&L Hot Dogs (meat and buns), with any condiments, within the allotted time of 10 minutes.
Emceeing this year's kickoff will be Dr. Mark Povroznik with Michelle Duez conducting crowd trivia. Studio 9 Dance Academy students will perform on Center Street, as will students of Bridgeport ATA Martial Arts.
Entertainers confirmed to date include Six String Outlaws, Josh Oldaker, Brandon LeRoy, and Greg Harrison.
Back again by popular demand will be the Car Cruise-In, spearheaded by Doug Marquette of the ABB Board.
"The Cruise-In portion of the Summer Kickoff has become a successful part of the event because it includes a lot of characteristics that car collectors like: Plenty of live music, food, great crowds, and an interesting venue," he said.
Vehicles will be parked along West Main Street from the Lloyd Lang Bridge to the railroad tracks (in front of Benedum Civic Center) on a first-come basis. The city parking lot between the Chandler Building and East of Chicago Pizza will be used for overflow parking.
Main Street will close at 4:30 p.m. after which cars featured in the cruise-in will be parked.
"They will only be able to access Main Street at Orchard Street just like we have in past years," Marquette said. "All other entry ways on to Main will have hard stops that can't be moved."
The Kids' Zone, sponsored by the City of Bridgeport, will be set up at the Benedum Civic Center, featuring bounce houses, popular kids' characters, and music by "BHos."
"The ABB is excited once again to bring Summer Kickoff to downtown Bridgeport," said ABB President Jaclyn Rominger. "Each year, the event continues to grow with more and more entertainers, food trucks and participating businesses. It's a great family-friendly night and all are welcome."
The beach ball drop and many surprises are also in store. The following businesses are serving as sponsors for this year's event: About You Monograms, Greater Bridgeport Convention & Visitors Bureau, East of Chicago Pizza, Rominger Dental, Kaufman Realty & Auctions, J. Robey Law, Oliverio's Florist, Pike Street Tattoo Studio and Chad Reppert – State Farm Insurance.