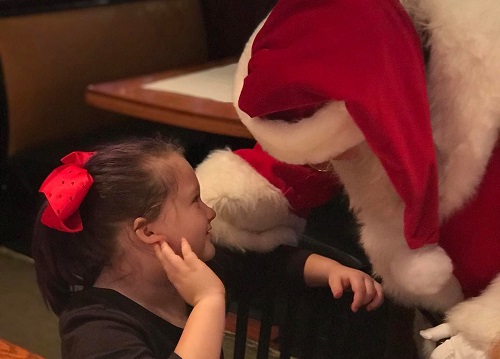 Here comes Santa Claus.
On Saturday, Nov. 14, the Jolly Old Elf will arrive at Meadowbrook Mall, welcoming children for photo ops. This year's visits, at Marshall's Court, will be socially distanced, but no less exciting than usual.
In this year's Santa pictures, visiting children will appear to be riding in Santa's sleigh. Marketing Director Robin Urquhart said the sleigh replica includes a bench for the kids. At a safe distance behind that, Santa will be perched upon his chair.
It is suggested that guests make reservations at www.vipholidayphotos.com and follow safety guidelines.
"Everyone walking onto the Santa set is required to wear a mask, but kids can take them down for the photo if parents choose," Urquhart said.
Complimentary cookies and milk will be available from 10 a.m. through noon, Nov. 14. Also, the first 100 children to visit Santa that day will receive a free 5X7 photo. From Nov. 15-20, the first 50 children to visit Santa will receive the same complimentary photo.
Not only is Santa Claus arriving at Meadowbrook Mall six weeks out from Christmas; so are the deals.
"Many of our stores are starting to roll out deals to jumpstart the holidays and make up for business lost earlier in the year," Urquhart said. "It works out well because I think people are in the mood for something positive."
Meadowbrook Mall has been operating on reduced hours; from 11 a.m. through 7 p.m., but is returning to regular mall hours of 10 a.m. through 9 p.m.
There are some exceptions including "Super Saturday," Dec. 19, during which the mall will be open 10 a.m. through midnight. (See a list of holiday hours below.)
Though there won't be storewide activities for Black Friday, Nov. 27, the mall will open early, at 6 a.m. Starting earlier that week – on Monday, Nov. 23 – shoppers will receive some perks.
"We're going to focus this holiday season on gifts with purchases. There are some really cool things available each week to entice shoppers," Urquhart said.
Shoppers will have seven days to accumulate spending dollars. Once a shopper reaches $250 in purchases, he or she can take mall receipts to the mall customer service desk and receive a free gift, while supplies last. The weekly gifts include a holiday cookie plate, holiday cookbook, handmade soap and lip balm set and a Fur Baby Fur Kid bandana and pet charm set.
That promotion runs for four consecutive weeks, ending Dec. 18.
Another holiday mall promotion is "Surprise and Delight."
"We'll run that at peak (shopping) times like Black Friday and Super Saturday (Nov. 27 and Dec. 19)," Urquhart said. "We'll be wondering through the mall and awarding random gift cards."
For the kids, weekly activity kits – while supplies last – will be available at the mall customer service desk.
See updates at Meadowbrook Mall's Web site 
HERE
.
Also, visit the Meadowbrook Mall Facebook page for virtual visits with Mrs. Claus Nov. 30 through Dec. 6.
The 2020 Holiday Season hours are as follows:
November 26 (Thanksgiving) – Closed
November 27 (Black Friday) – 6AM – 9PM
November 28 – 9AM – 9PM
November 29  – 11AM – 6PM
November 30 – 10AM – 9PM
December 1 – 5 – 10AM – 9PM
December 6 – 11AM – 6PM
December 7 – 12 – 10AM – 9PM
December 13 – 11AM – 6PM
December 14 – 10AM – 9PM
December 15 – 18 – 10AM – 10PM
December 19 (Super Saturday) – 10AM – Midnight
December 20 – 11AM – 6PM
December 21 – 23 – 9AM – 10PM
December 24 (Christmas Eve) – 9AM – 6PM
December 25 (Christmas) – Closed
December 26 – 9AM – 9PM
December 27 – 11AM – 6PM
December 28 – 30 – 10AM – 9PM
December 31 (New Year's Eve) – 10AM – 6PM
January 1 (New Year's Day) – 10AM – 6PM