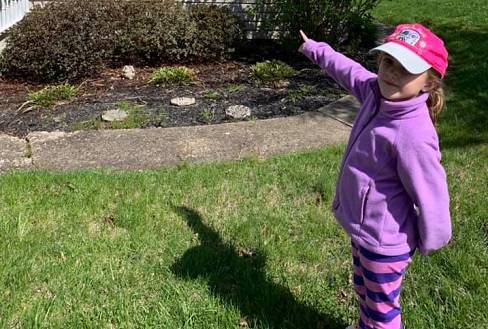 A week or so ago, some Bridgeport moms saw an idea on social media that has taken off in a big way. Residents all over the city have participated in a children's "Bear Hunt," placing stuffed bears and other animals in their windows or outside their home. Families have reported their children are having fun walking or riding around town, counting all the bears they can find.
Connect-Bridgeport has been asked to spread the word about two other potential citywide activities: One to express appreciation to our first responders and the other to share in some Easter fun.
Lisa Lang, business owner and wife of Bridgeport Mayor Andy Lang, said in honor of this week's Doctors' Appreciation observance – and the avid work of those professionals during the COVID-19 pandemic – she thinks a citywide expression of thanks to all first responders would be appropriate. Lang suggests that residents create signs/banners to display in windows or on homes and/or create sidewalk chart art for the occasion. Advise Connect-Bridgeport if your street is participating and a list of streets will be compiled. Arrangements will be made for displays to be photographed and/or videoed. Those photos and videos will be shared with first responders via social media and other media, including Connect-Bridgeport. It is asked that artwork be completed by Wed., April 8. First responders include doctors, nurses and other healthcare workers, as well as EMTs, firefighters, policemen and other emergency personnel. Whether you have a message for a particular first responder – or the group in general – we look forward to your display of appreciation.
Bridgeport's Tracey McCauley would like to see an Easter egg hunt implemented.
"It is similar to the 'bear hunt' many neighborhoods have been doing except, we place Easter eggs in our windows or yards or wherever they can be seen clearly from the sidewalk," she said. "Then the 'hunters' take pictures and post them with the hashtag #2019EasterEggHunt."
As with the other ideas, please advise Connect-Bridgeport if your street is participating and we will compile information for readers. Email julie@connect-bridgeport.com, indicating the street you live on and if you are (1) participating in first responder appreciation, (2) placing Easter eggs for the hunt or (3) want to be added to the bear hunt list.
Many positive remarks have been received about the neighborhood bear hunt. Parents report that children are delighted to take walks or rides and be on the lookout for the bears.
"We drove around and counted 143 bears! It was so much fun for the entire family," said Ashley Edgell.