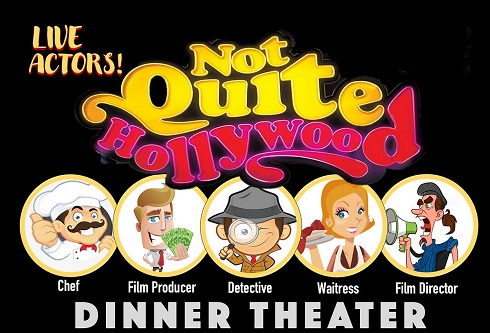 Tickets are on sale for "Not Quite Hollywood," a "Who Dun It?" dinner theater to be held March 3-4 at Holiday Inn Express in White Oaks. Not only does the murder mystery guarantee a good time, but it also raises money for JC Films' mission to produce more family-friendly, faith-based films.
"Not Quite Hollywood" pokes fun at movie making; from the loud, annoying film director to the kooky casting agent to the self-taught detective. There is also, of course, a passionate French chef involved. The show incorporates some JC Films regulars, including Dean Cain, who stars in many of the movies and who has become a regular visitor to Bridgeport. Also appearing are Eddie McClintock – who you might know from his role of Secret Service agent Pete Lattimer on "Warehouse 13" – and Julie McCullough, whose TV credits include eight episodes of "Growing Pains."
The celebrities have been written into the script, but they will appear via video. Also starring in the production will be local talent and supporters of JC Films.
"We've done so many films here and there is so much wonderful talent in the area, so part of the reason for the murder mystery is to provide another outlet for them to perform," said Jason Campbell, owner of JC Films. "The other reason is to raise money to make more faith-based films."
Though a family-friendly show, it is recommended for ages 12 and up. All tickets are $50, which includes an Italian-style buffet meal, soda or iced tea, and the show. A cash bar will be provided.
On the menu are hors d'oeuvres, salad, grilled chicken fettuccine, spaghetti with meatballs, steamed vegetables, steak tips with rice, garlic bread, and dessert.
As guests are eating, the show will take place around them, and someone will be "murdered." It will be up to the audience to figure out who committed the crime.
Guests can interact with the characters during the show, which promises intrigue, mystery, and a nail-biting plot. One lucky guest will even with a prize.
There are two chances to experience "Not Quite Hollywood," 6-9 p.m. on Friday, March 3, and Saturday, March 4, at Holiday Inn Express, 20 Sweetbriar Lane in Bridgeport. Upon arrival, guests can purchase from the cash bar, enjoy hors d'oeuvres and mingle with the show's characters.
All money coming in will be used by the Bridgeport club to make more films in Bridgeport. We'll do probably six films in this area next year so this really helps us out," said Jason Campbell, owner of JC Films.
Last year, JC Films made 18 movies, though not all of them were made here in North Central West Virginia.
"We have expanded production with clubs across the U.S. – all making content for JC Films," Campbell said. "It started here in Bridgeport, and they've replicated that success across the country, from Orlando to Phoenix to Greenville, SC."
There are also JC Films clubs in Uganda, the UK and Melbourne, Australia.
"We go to the towns, do training, teach classes, and talk to people," Campbell said. "Most of our clubs have successfully made their first film."
Campbell, as well as Dean Cain, has been involved in the productions. As does Bridgeport, the clubs depend on independent fundraisers to make the films.
 The films provide opportunities for people who always wanted to act, but "life happened" and they put that goal on the back burner. In Orlando, several Disney employees have gotten involved in Christian films.
JC Films productions stream on many streaming platforms including Amazon, PureFlix, and Hulu. Just recently, JC Films launched its own streaming platform, JCPlus, carrying 223 Christian titles (JC Films and others) and accessible free through Roku.
Shot in the local area, the movie, "Break Every Chain" has won numerous awards and voted Second Best Film at a major film festival.
"Bridgeport should be very proud of that," Campbell said.
The JC Films mission has always been two-fold: To create film content to change the culture in a positive way and to get more people engaged in the process.
Upcoming projects of JC Films include "The Great Bank Robbery that Created West Virginia" to be filmed in Weston and "I Don't Want to Jump," a film about the growing numbers of teen suicides.
To become involved with JC Films, visit the website 
HERE
.
Editor's Note: Campbell, pictured above, is also a member of Bridgeport City Council.