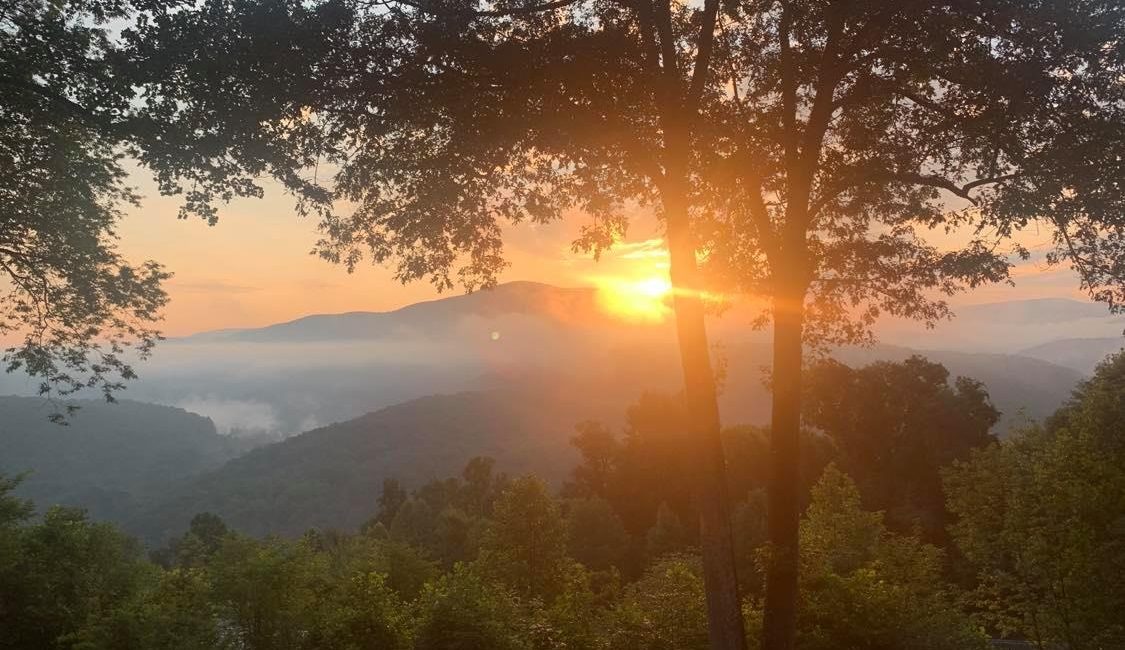 It's Happening Blog
by Julie Perine
My family loves the mountains of West Virginia. And, why not? They provide excellent scenery, exciting recreation and prime relaxation – and they're less than two hours away!
Recently, my husband Jeff and I ventured up Route 33 to enjoy a variety of activities. First stop was bicycling along the Appalachian Trail in Glady, part of the massive Monongahela National Forest.
Parking just outside the entrance to the campgrounds, we ventured across gravel roads for a couple miles, waving and speaking to friendly campers along the way. Eventually we crossed into much denser territory and dirt trails. As it had recently rained, we traversed through some swampy ground and navigated around some pretty big fallen tree branches. It was thick and green as far as we could see and we even came upon a very cool looking cave, wondering if there was perhaps a black bear inside. No worries. We didn't go inside to find out!
We took the bikes as far as we could, eventually leaving them in the thick foliage and traveling by foot to the Glady Fork river, where Jeff did a little fishing and I snapped pictures. We had walked along the river quite a bit during our excursion, ultimately deciding to navigate back to the trail. Sure, we could have backtracked and had an easier, more familiar hike back to the bikes, but we were on an adventure. We cleared our own trail, hunching under and through brush, gaining a few scratches but also some lasting memories.
Next up on our mountain adventure was a little West Virginia history lesson which – by design – involved little to no physical activity. We took a road trip via County Route 22, eventually re-entering the Monongahela National Forrest and a series of small towns, now desolate, but once booming during the timbering era. We imagined these little late-19th century burgs – Widell, May, Braucher, Olive and others – bustling with families, going about their days, working and taking care of family and their children running and laughing. Once stood in these areas planning mills, company stores, rail stations, churches and schoolhouses. We occasionally came upon an old abandoned house, the only sign that the thick woodsy area was once full of homes, business and industry. Our little tour – which stretched across 30 miles or so – concluded in century-old Durbin, once the center of the area's timber industry, now known for its railroad history and home of the Durbin Rocket rail excursion.
Along the way, we also learned about Peter Shaver, the Revolutionary War Patriot for whom Shavers Fork and Shavers Mountain were named. He was just 34 years old when he died in 1781.
Our most recent visit to the area started with hiking along abandoned railroad tracks along Shavers Fork, now utilized only for trout stocking. We took in more unspoiled scenery, encountering some awe-inspiring moments. After practically chasing butterflies down for some photo ops, I happened upon a mess of them on a river rock – apparently, as I later learned – they were puddling: seeking out nutrients in the moist environment. They were so beautiful, Another highlight was chasing Jeff's tackle box after it took a little accidental trip down the river. I could not believe he found it, a few tenths of a mile away, wedged against a rock.
We then continued up Route 33, traveling through Canaan Valley, Davis and Thomas, stopping, of course, for visits to Blackwater Falls and The Purple Fiddle café. After plenty of mountain scenery, our car journey ended in Parsons, where our floating journey began. At Blackwater Outdoor Adventure, we – along with our tubes – were shuttled up the river, from where we enjoyed a relaxing, two-hour float. There was absolutely nothing to do but enjoy the refreshing waters, warm sunshine and dominant fluffy clouds, as well as country tunes, courtesy of the floaters behind us.
It's no wonder folks flock to the Mountain State. We are so very fortunate to live here, right?
Make beautiful Bridgeport in North Central WV your base. Book one of our quality hotels
HERE
.