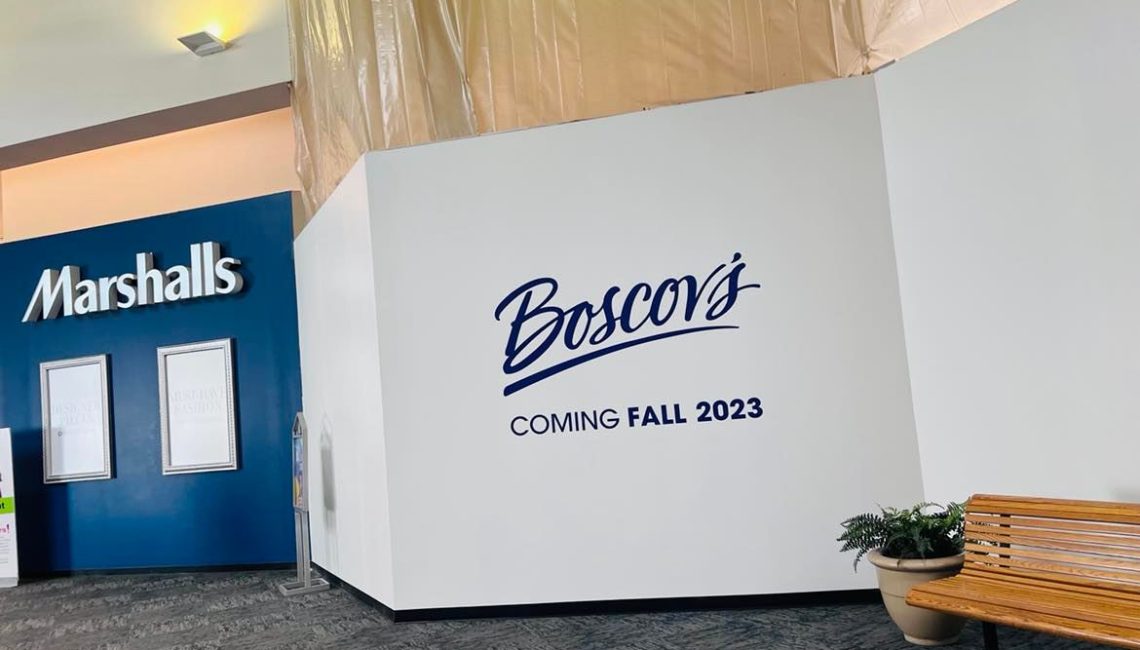 To prepare for Meadowbrook Mall's addition of Boscov's department, a buildout is underway involving several mall stores. Those affected and relocating within the mall include Marshalls and Books-A-Million.
According to Mall Marketing Director Joseph Thomas, Marshalls will move into a portion of the former Elder Beerman fashion store and Books-A-Million will move between Hot Topic and Hibbett Sports in spaces formerly occupied by Justice and Christopher & Banks.
"We've combined those storefronts together to make one big space," Thomas said. "Both Books-A-Million and Marshalls are moving into significantly bigger spaces."
The stores should relocate in about two months, coinciding with the completion of the new façade being built between the present stores. The buildout also encompasses the former JoAnn Fabrics, Boardwalk Arcade, and Armed Forces Career Center.
The space formerly occupied by the Elder Beerman home store and Polish Nail Bar will not be affected by the remodeling.
"The hallway that connects the front parking lot where HD Truck Center is and connects to Cinemark will remain there, along with the Polish Nail Bar," Thomas said. "The new buildout will relatively speaking, kind of mirror Target on the other side of the mall."
Shoppers will be able to enter the 150,000- square-foot Boscov's via five locations.
"One entrance will be in the front, approximately where the entrance to JoAnns was, one on the backside facing the (former) Elder-Beerman home store and two facing toward the interior side of the mall," Thomas said.
Everything should be completed by the fall.
"At some point, they will ramp up the buildout with crews on site 24/7," Thomas said.
Boscov's will be an ideal fit for the mall – and vice versa.
"We are ideal for their market. They like to have that strong middle-class market, which is what our mall was designed for," Thomas said.
Boscov's offerings should appeal to a wide variety of shoppers.
"They carry a full lineup of furniture – couches, armchairs, recliners, and bedroom sets; they are a true furniture store inside a department store," he said. "They also have a great selection of mobile kitchen appliances and there's supposed to be a good selection."
Thomas expects the candy counter to also be a big draw.
"Boscov's brings that into every one of their locations. There are not a lot of walk-up candy counters where you can buy candy that's been made fresh," he said.
In addition to Bridgeport, Clarksburg, and surrounding cities, mall shoppers travel from throughout much of the state, particularly the southern part.
"To the north, we do have competition with Middletown Commons, Morgantown Mall and Pittsburgh options, but to the south – especially with Charleston Mall going out – there's nothing and some available data indicates we are seeing shoppers coming from the south visiting as often as twice a year," Thomas said. "And we expect Boscov's to push that even more."
The addition of Boscov's will likely pull traffic from the northern part of the state, as well.
"From our social media comments about the store coming, we've seen that people from Pittsburgh are missing their Boscov's store which is no longer there," Thomas said. "Some have said they plan to visit our store since it is in driving distance. It is unique to this area to have a department store of that size. In fact, it's unique across the country. There are very few stores of that size and scale opening anywhere. We're excited to welcome Boscov's and make it happen."
Thomas said a large testament to why Meadowbrook Mall is surviving is due to The Cafaro Company's reinvestments into its properties.
"Cafaro is fully capable of purchasing or building new properties, but rather than that, they redirect their profits back into their existing properties," he said. "Our mall is a perfect example of that. We were surviving and it was steady. We may not have been thriving, but we were not failing by any means. Rather than let us ride it out, Cafaro chose to reinvest in the property to make it stronger and they do that across their portfolio of malls."
There has been much excitement around the announcement of Boscov's coming to Meadowbrook Mall and Thomas said the excitement isn't over.
"We do have more announcements to come. There are a few other developments on the way," he said.