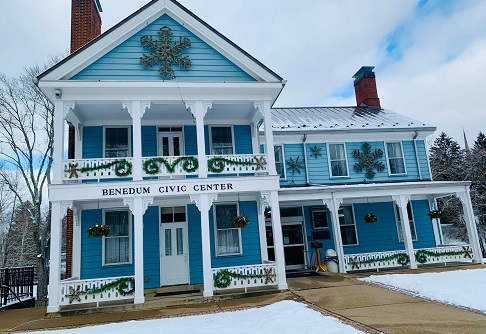 City Council found itself in a bit of a pickle on Monday.
Pickleball to be more precise.
The sport that is gaining popularity across the nation and has been a featured tournament attraction at the Citynet Center at The Bridge Sports Complex was an item frequently mentioned by those who participated in a survey for what changes they would like to see at the Benedum Civic Center grounds.
Sam Rich with Thrasher Engineering was present for a work session prior to the start of Monday's regular meeting to update Council with the master plans for the upgrade to the Civic Center grounds.
Much of the information Rich went over was the same from last week's public meeting where the plans for two options were presented. More from that meeting including photos of the two options can be seen 
HERE
He did however incorporate some of the feedback they received at the public meeting into Monday's presentation.
While outdoor pickleball courts are part of the plans, the City's Parks and Recreation Department and Thrasher are also looking at upgrades to existing entities like the playground, basketball court, tennis courts and beach volleyball area as well as new additions like increased green space, additional shade spaces, activity spaces and interpretive signage elements.
Parking is another key issue that would be improved with either option.
Neither option includes any proposed plans for a new pool.
"This is not plans for a new pool," Parks and Recreation Director Joe Shuttleworth said. "But what we're doing with the upgrade will set the footprint so when the day comes to build a new pool that it will work with we are doing."
Eight City employees were honored with Employee Service Awards during Monday's meeting. Those recognized for 10 years of service were: Brandon Chaney, Natalie Fox, Steve Gallo Jr., James M. Holley, Andrea Kerr, Cecil Moore, Zachary Owens and Michael Yost.
Kerr, Holley and Fox were present to receive their honors.
More photos from the service awards available on Connect-Bridgeport in the upcoming days.
In his City Manager report, Brian Newton discussed the Bridgeport Police Department's Food Drive that will take place from 10 a.m. to 1 p.m. on Saturday in front of the high school and middle school.
"That's always a successful food drive and I'd like to thank the police department for doing it," Newton said.
As far as the new business portion of the meeting, two items involving the City's website were discussed and approved.
The first was for a contract with Smartsite.biz in the amount of $15,156 plus a 10 percent contingency of $1,515.60 for a total of 16,671.60  for new website development.
"This company has basically everything we are looking for," said Kerr, the City's Community Development Director who also served as interim City Clerk at Monday's meeting. "They are a West Virginia-owned company. They work with many other municipalities in the state. We reached out to some of those municipalities and got good reviews.
"Their price was very reasonable and as you are all probably well aware, our website could use a little facelift."
The second contract, also for website development, is with Next Step Media in the amount of $12,000 plus a 10 percent contingency for $1,200 for a total of $13,200.
"Next Step Media they are basically going to be helping us with social media, website editing, taking pictures, doing some drone footage, some videos, just to keep all our content on our website fresh."
The only other new item of business was the consideration and acting upon a preliminary approval for an alley abandonment request. Council elected to postpone a decision in order for more information to be gathered.
Editor's Note: Top photo shows Newton pointing out something on one of the master plans for the Civic Center grounds as he is flanked by Councilman John Wilson (left) and City Attorney Dean Ramsey (right). In the middle photo, Holley, Kerr and Fox are recognized with Employee Service Awards as Council looks on. Bottom photo features from left: Councilman Don Burton, Councilman Jeff Smell and Mayor Andy Lang.