Known as a Whale of a Sale, the Bridgeport United Methodist Church rummage sale rolls in annually to delight shoppers and raise big funds for area charities and organizations. Set for Aug. 4, 5, 7, and 8, this year's sale will be no exception.
"This is the only fundraiser we do and it benefits so many organizations that help women, children, and youth which is part of the mission of United Women in Faith," said Cheryl Bramble, president and Whale of a Sale chair.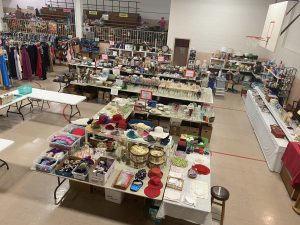 Benefiting from the four-day sale will be the Harrison County Backpack Food Program, Bi-County Nutrition, Burlington Family Services, CASA, Bridgeport Little League Challenger Division, the Clarksburg Mission, Duff Street United Methodist Church Food Pantry, Flood Buckets for UMCORE, Genesis Youth Center, Good Will Industries (coming and get all leftover), Health Access, Heart & Hand House, Hope, Inc., Salvation Army, Scott's Run Settlement House, Shepherd's Corner, Upshur Parish, Open Heart Ministry, and Sleep in Heavenly Peace.
Last year's sale – which had been the first year back after the COVID pandemic – netted about $14,000, which was significantly lower than 2019 proceeds.
"But considering the pandemic and not quite as many donations, that was a good number," Bramble said.
This year, donations are plentiful, and so was help from BUMC groups.
"We had a good bit of men and youth help set up the tables and racks," Bramble said. "We started collecting in May and then set up in early June. Different women volunteered to do sections, organizing, and pricing."
The work just finished on Monday. Sorted and tagged for sale are toys, jewelry, knick-knacks, holiday items, craft supplies, furniture, small appliances, baby items, games, puzzles, lamps, linens, and just about anything you can imagine.
A few categories especially plentiful with donations are glassware, golf clubs, and clothing – many pieces with the sales tags still attached.
Sale hours are 9 a.m. to 3 p.m. Friday, Aug. 4 and Saturday, Aug. 5. The sale will be closed Sunday, Aug. 6 and reopened  9 a.m. to 3 p.m. Monday, Aug. 7 and 9-11 a.m. Tuesday, Aug. 8. Monday will be half price day and Tuesday will be bag day, customers paying by the bag full, rather than the item.
In addition to the organizations mentioned above, the sale also benefits various missionaries, as well as scholarships for the BUMC preschool and after-school programs. Shoe boxes donated to the sale are saved for Operation Christmas Child and appropriate leftover dresses and jewelry are donated to local high schools for homecomings and proms. Leftover books are donated to the Bridgeport Presbyterian Church book sale and many items are donated to Good Will.
"There are other ways to help besides the money raised," Bramble said. "And we also feel we are doing the community a service by having the sale. They can come in and get clothing and other things they need. Especially in times like this, I think people appreciate getting things at more affordable prices. And our quality is good. Anything that isn't in good shape, we toss."
Bridgeport United Methodist Church is located at 251 Worthington Drive in Bridgeport.