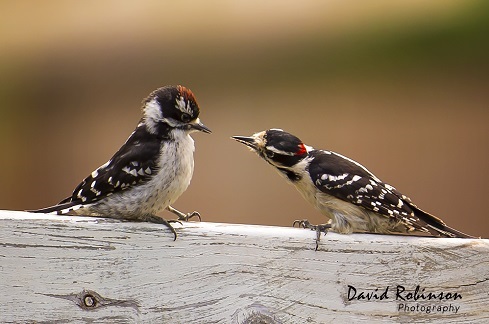 His photography has been displayed in many homes throughout the community, but for the first time Bridgeport-based photographer David Robinson has a published piece.
Taken recently in his own backyard, a picture he refers to as "Baby Huey" has been accepted by Wonderful West Virginia, a showpiece magazine published monthly by the Division of Natural Resources.
Included in the September issue, the photo features an adult downy woodpecker and his oversized offspring.
"It was hilarious the way the baby – twice the size of his dad – was sitting on my fence," Robinson said. "When I was editing the picture, it really stood out that he was so naïve, young and innocent and was just waiting to be pampered and fed. He reminded me of Baby Huey. Slap a diaper on him and he would have been."
Invoking emotion through photography is always Robinson's goal. He has been intrigued by and drawn to taking pictures since he was a little boy.
"I was 8 years old when my dad bought me a Kodak disc camera," he said. "I took it everywhere with me then and I still take a camera with me everywhere I go."
That included his years of high school in Virginia and his college years to follow. He took a few photography classes, but most of his art has been self-taught.
After learning his way around the 35-millimeter camera, he ultimately – though reluctantly – made the switch to digital photography.
He said he swore he would never make the switch, but after another photographer – one who called Robinson's camera a dinosaur – gave him a quick tour of his own digital camera, Robinson became sold on the idea.
"He showed me the LCD monitor on the back of the camera and there was instant gratification," he said. "You took and picture and you could see it right away."
That was circa. 2005, around the same time that Robinson retired early from his job at UPS.
"I didn't want to miss my kids growing up," he said. "Someone said, why don't you take pictures for a living?"
He was already shooting friends' weddings, so he decided to give it a go. Professionally, he did senior pictures and other portraits, as well as special events and some sports.
Robinson also took nature photos, mostly for his own enjoyment. That aspect of his photography became more prominent when the health pandemic began.
"Since COVID hit, I got into refocusing my energy. I have a perfect backyard for birding, so I turned it into a bird sanctuary. I just really became addicted to it," he said.
It was late-June, while he and his wife were bird watching, that they spotted the pair of woodpeckers that would be featured in his first published photo.
He said he's never been one to enter photography contests or submit for publication, but he thinks he might make another attempt at shooting for Wonderful West Virginia.
It's a premier West Virginia nature publication plus it provides another challenge in his photography journey.
"For me, nature is the hardest thing to shoot, even though it just sets there," Robinson said. "It's so hard to capture what I see in my mind and transform it into a picture."
But when he captures a photo that invokes that emotion, he knows it's a good one, he said.
Editor's Note: Robinson shown with his family, wife Alissa and sons Blake and Cade.