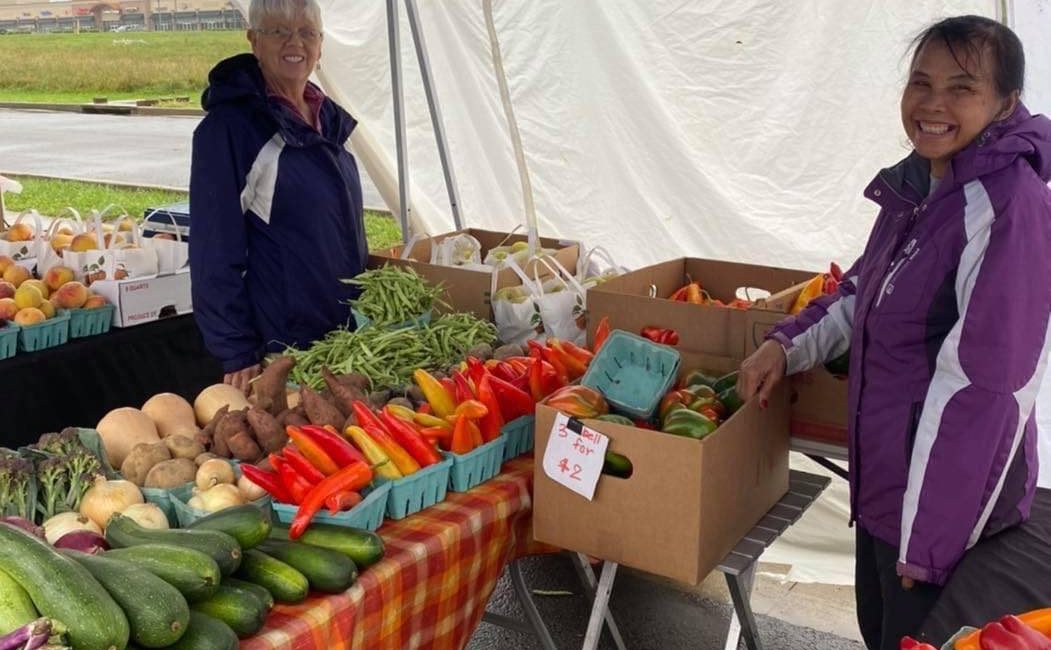 Outdoor browsing for produce, farm-raised meats and eggs, baked goods, and artisan wares is just around the corner. Bridgeport Farmers Market kicks off the season at 10 a.m. Sunday, May 15 at the market grounds at Charles Pointe, just outside Bridgeport Visitors Bureau.
"It's hard to believe this is season 14 and with COVID, the market has adapted in different ways for the past two years. But this year, we can try to get back to normal and we're hoping to bring some aspects of the market back that has been missing for the past couple of years," said Debbie Workman of the Bridgeport Farmers Market board.
The market welcomes seven new vendors for 2022; a diverse group, Workman said.
"We have two new farmers – LOOP Organics from Morgantown and Green Thumb Botanicals from right here in Bridgeport."
LOOP Organics focuses on creating well-balanced and biologically diverse soils to grow healthy organic crops. Offerings of Green Thumb Botanicals include fresh produce, cut flowers, and a variety of heirloom tomato seeds to plant in your own gardens.
Also on board for 2022 are a pair of new artisans, Whiskey Creek Forge and MarieX3.
Harrison County-based Whiskey Creek Forge utilizes steel and copper to hand-forged items with some minor welding. Items will vary throughout the season but will include candleholders, home decor, pendants, jewelry, iron hooks, kitchen & BBQ utensils. Custom orders will be accepted.
MarieX3 is an artisan specializing in Amigurumi – the Japanese art of knitting or crocheting small, stuffed yarn creatures. She will offer a variety of other handcrafted items such as crochet planters with succulents, and crochet recycled bags for market shopping.
Also joining the market this year is Hill and Holler Herbal Company, which operates out of Morgantown.
"She'll have body products, teas, and other items made from herbs she grows herself," Workman said.
Every ingredient is 100 percent organic and sustainably sourced and all packaging is reusable or tree-free and home compostable, including the labels.
The Drifter Doughnuts food truck will be on-site every Sunday, offering a wide variety of miniature doughnuts. As in past recent years, The Lunch Box Food Truck will also be at the market weekly.
Rounding out the new vendor list is Bridgeport Public Library, offering a pop-up library.
"We're really excited about this," Workman said. "Twice a month – including the opening day on May 15 – they will be here and you can sign up for a library card and check out books. They will also be giving away books periodically and incorporating the market into their summer reading program. There will be some children's activities, too."
The market will also feature weekly live music with longtime market friend John Posey doing the honors on May 15. Also on board for opening day and the remainder of the season are the Bards of Yellowwood, offering on-the-spot poetry. West Virginia author Matt Browning will also be on hand on opening day.
"We'll also have all our regulars – a wide variety of seasonal locally-grown produce, meats, West Virginia honey, eggs, West Virginia artisans and bakers," Workman said. "We have over 50 vendors affiliated with the market and on average, we'll have 40 vendors there each week."
The market is open from 10 a.m. through 1 p.m. Sundays.