When Kate Glaspell opened Sunmoon Apparel in 2019, she was inspired to "spread the funkiness" by offering for purchase the retro-inspired attire she handpicked on her travels. In time, she added to her inventory everything from soy candles and hemp products to handmade jewelry and plants.
Glaspell's true grassroots effort has sprouted and sparked interest in shoppers throughout the region. As her customer base continues to grow, she is expanding her business at 202 East Main Street in Bridgeport.
"When we moved in here, we put a wall up to separate our space, but we are breaking that down and expanding into the main space of the building," Glaspell said.
The building was formerly occupied by Country Peddler gift shop and most recently shared by Sunmoon and NFM Lending. NFM is no longer in the building and Sunmoon will be expanding into a much bigger space.
Also moving in are Mountain Mama Magick and Abundant Mother Apothecary. Owned by Whitney Oliverio, Mountain mama Magick is a holistic health practice that incorporates reiki, crystal therapy, and hand-poured, soy-wax candles – including candle-making classes. The apothecary business is owned by Sara Rose Scudere, who offers herbal work, tinctures and more. (Look for more on those upcoming businesses and when they expect to open.)
Sunmoon Apparel will be closed next week (March 6-12) as work is completed and inventory is moved into the new space.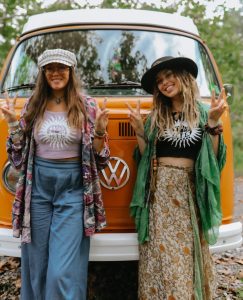 "We're hoping to be open the following week, based on whether the contractor is able to finish," Glaspell said.
In addition to vintage clothing and accessories, Sunmoon will continue its collaborations with other small businesses by carrying a variety of other items.
"We'll have a vinyl record room and we are expanding our apothecary, working with some other small businesses and we'll have a lot more art, too," Glaspell said. "The apothecary will feature toxic-free, clean products including household and laundry products, room sprays, pottery, herbal teas, local honey and some facial and other skincare products."
Glaspell is grateful for the support she has received and she looks forward to yet another chapter as she assesses the wants and needs of area residents.
"Thrifting has always been our main source and why I opened up Sunmoon, but we want to offer other things to the community – because we need it," Glaspell said.
Editor's Note: Sunmoon Apparel owner Kate Glaspell is shown with Darryan Ward, who works as a stylist at the business. Glaspell is pictured on the cover with a customer.