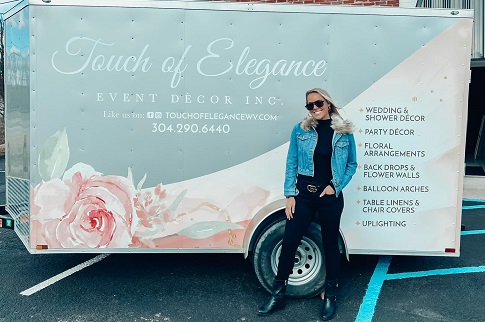 The recent GFWC Juniors' Be the Change Ball featured a circus theme, brought to life with a gold, black, red, and white color scheme – carried out through the use of balloon archways, and centerpieces. ceiling drapes and backdrops.
It was the work of Touch of Elegance Event Decor, an event decorating company owned by Michelle Peasak and located at Bridgeport's Blake Center.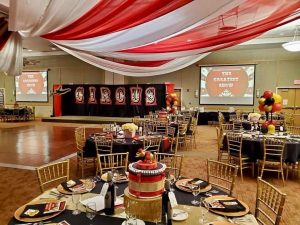 "We do pretty much any kind of party – birthdays, graduation, etc.,  weddings, bridal and baby showers," she said.
Peasak has a bachelor's degree in business with an emphasis in marketing from Fairmont State University. She is assisted by her husband, Tim Peasak, and her mother, Donna Rizzo Wilson. Wilson's specialty is the creation of flower arrangements for centerpieces. Peasak and her team rent to their clients the elements of decor, then come on-site and create their vision.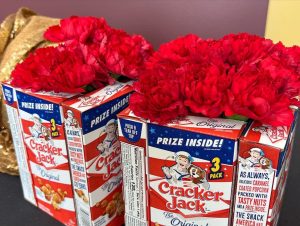 If the client is in need of ideas, they can point them in a direction and provide ideas. Though they aren't wedding planners, they have certainly been able to eliminate some of the stress a bride may encounter when planning her big day.
Peasak said the creating of a vision, the setting up, and the gearing down are all very time-consuming, but very rewarding.
"When we get all done decorating, I love seeing the customers' faces. There's nothing better than seeing happy customers," she said.
Having had a lifelong passion for decorating, Peasak – who has a full-time job managing Pro Performance in Morgantown – has dabbled in event decor in recent years.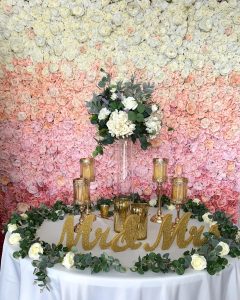 "I just started doing it out of my house and it took off from there," she said.
Once going into business, Peasak worked out of a trailer but soon outgrew that setup.
"I kept all my supplies in the trailer, but it became hard to do consultations and show customers what we had," she said.
Another obstacle she ran into was the COVID pandemic, not only limiting the number of events happening but also attributing to slow and canceled shipment of inventory items.
After doing some painting and minor renovation work, A Touch of Elegance began operating out of Blake Center in February.
"Now that we have this space, we can set up a flower wall and other displays so people can come in and see them, as well as centerpieces, signs, balloon arches, and other items we have."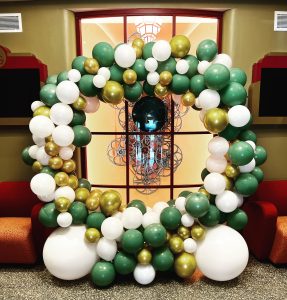 Those items include various signs, marquee light-up letters, deco mesh, and candle centerpieces.
"For a kid's birthday, it's fun to create a deco mesh centerpiece and put something from whatever theme they're wanting inside," Peasak said.
In recent months, the team has decorated for a football tailgate, hosted by Building Hope, an anti-bullying charity. The event featured a blue and gold color scheme. On some tables were football centerpieces. Others were decorated with floral centerpieces.
For the Fairmont Senior Homecoming, A Touch of Elegance utilized school colors and mascot to create a blue, white, and silver scape accented with paw prints, a circular balloon arch, and a backdrop.
The team works mostly in the local area, but if available, will travel an hour or two to set up and tear down an event. Consultations are available by appointment only by calling Peasak at 304-290-6440.
"I offer an extensive range of services personalized to meet the vision and budget of any client," she said. "I promise to make your special event a memorable and enjoyable experience."