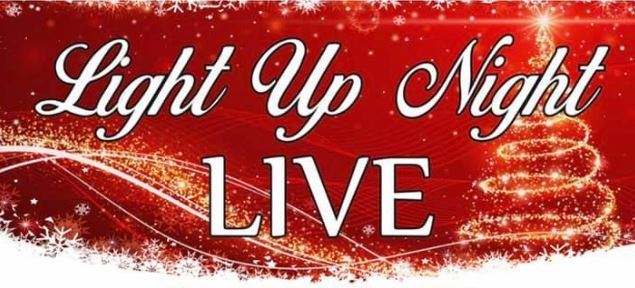 We don't know about you, but we feel like kids on the brink of Christmas.
Light Up Night 2020 – including Bridgeport's very first Light Up Our City – is just a day away.
Here's how it's all shaping up:
At 6 p.m., city officials will be gathered at the Benedum Civic Center to light the city Christmas tree; a beautiful tree assembled each year by the Bridgeport Parks and Recreation crew. At this time, residents are encouraged to flip the switch on their own holiday decorations to officially declare the holiday season citywide.
Even though – due to COVID restrictions – we aren't permitted to host a live downtown event this year, we are thrilled that residents can be included in this special moment by tuning into WDTV News Channel 5 for the actual lighting of the tree and the WDTV Facebook page for live coverage. Leading up to that time, please watch WDTV and the WDTV Facebook page for cut-ins that will feature interviews and other behind-the-scenes happenings. We respectfully ask that you not attend in person. It is for the safety of the community that this decision has been made. We very much appreciate your cooperation.
At 6:30 p.m., motorists are invited to enter Main Street via Philadelphia Avenue for a drive-thru of city lights and entertainment. Country music vocalist Wyatt Turner will be performing at the city parking lot at Veterans Memorial, Philadelphia and Main. Proceeding west, motorists will be delighted to encounter the Middleville Baptist Church live nativity at Della's Deli, Nat Frederick at Winnie's, Jason Young at the GAL building, Brandon Leroy at the city lot (corner of Main and Center), Ben DeFazio at About You Monograms and Josh Oldaker at My Little Cupcake. In front of the Civic Center, festive tunes – courtesy of DJ Caden Shmigalsky – will be playing while Santa and Mrs. Claus will send off visitors in true holiday style.
But the excitement won't be over just yet.
During the route, a map will be distributed indicating residential areas of the city that are lit up in holiday style. That "Light Up Our City map can also be located anytime Thursday at Connect-Bridgeport.com. In true magical fashion, click the link to be directed to Google Maps for a guided tour of Bridgeport holiday lights. If you don't have the Google Maps app, now is a great time to download it and have it ready for the big night.
Along the way, kids of all ages (and that includes you!) can watch for random letters, courtesy of Card-My-Yard Bridgeport. Keep track of those letters then at the conclusion of the city lights tour, see if you can unscramble our holiday message. If you think you have solved it, send your answer to 
Bridgeport@cardmyyard.com
. Those with the correct answer will receive $10 off a Card My Yard message and one lucky resident will receive a free holiday 2020 Card My Yard. (Letters will stay up through Sunday, Dec. 6.)
If you can't make it out Thursday evening for the Main Street Light Up Night Drive-Thru, Connect-Bridgeport has you covered. Ben Queen Photography will broadcast live via the Connect-Bridgeport Facebook page.
If you can't make the residential Light Up Our City drive Thursday night, you can do it any night leading up to Christmas! (Note: The letter contest is for Thursday through Sunday only.)
And just to cap it all off, Connect-Bridgeport will be running a photo gallery, featuring some of the city's beautifully decorated homes.
It's been a tough year. The Associated Businesses of Bridgeport, City of Bridgeport, many business sponsors (see below), the Bridgeport CVB/Connect-Bridgeport and Card My Yard Bridgeport have worked together to bring a magical, happy evening to you and yours.
If you haven't added your address to be included in the Light Up Our City map, you still have until 6 p.m. today, Monday, Nov. 30, to be included in the print form. But even after that, addresses are still welcome and will be added to the Google Map.  Send to 
julie@connect-bridgeport.com
.
This Wednesday and each Wednesday thereafter until Christmas, the street with the most "Light Up Our City" listings will be determined, and that street will receive the "Sleighed It Award," earning a free Card My Yard on Thursday. The first will be placed in time for Light Up Night, Dec. 3. So, keep those addresses coming and tune into Connect-Bridgeport to see which streets are truly glistening in holiday style.
Whether or not you are on the lights map, please go all out decorating. Chances are that motorist will be in your area and take in the holiday sights.
Thursday evening is also the Bridgeport Cemetery holiday luminary display. Read about it
HERE
.
This year's Light Up Night is being sponsored by Civil & Environmental Consultants; K&M Lawn Care, Jamie Day, DDS; Rominger Dental, Kaufman Realty & Actions, Venture Real Estate and the Greater Bridgeport Convention & Visitors Bureau.