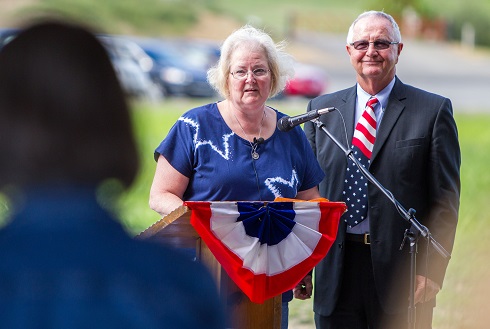 On Sunday, Sept. 27, residents are encouraged to attend "Cover the Badge in Prayer." This annual special community time of prayer for officers will be held 3 p.m. at Bridgeport City Park behind Bridgeport High School.
Law enforcement personnel from a variety of offices will be attending.
Congregations and individuals are encouraged to attend this special event to show support for our local law enforcement and to join in prayer for those who daily serve us.
"In recent months we have watched with heartache as police officers have come under assault across the United States," said committee member, Pastor Jeff Vaughan. "As citizens, we have experienced the blessing of men and women who serve us through law enforcement.  These folks have provided peace and protection in our communities; now these same officers who serve our communities need our support and prayer."
The Bible tells us in Romans chapter 13, Vaughan said, that police officers are "ministers" for our good.
"Please join us in ministering back to the men and women who minister to us by emphasizing in your church this special time of prayer," he said
Committee members Pamela Hotsinpiller, of Simpson Creek Baptist Church, Pastor Tom Horne of Lifeway Bible Fellowship and Pastor Vaughan of Grace Baptist Church said they look forward to seeing what God will do as congregations and individuals across the area join together in prayer.
Editor's Note: Photo by Ben Queen features Pamela Hotsinpiller and Pastor Tom Horne at a previous Cover the Badge in Prayer event.