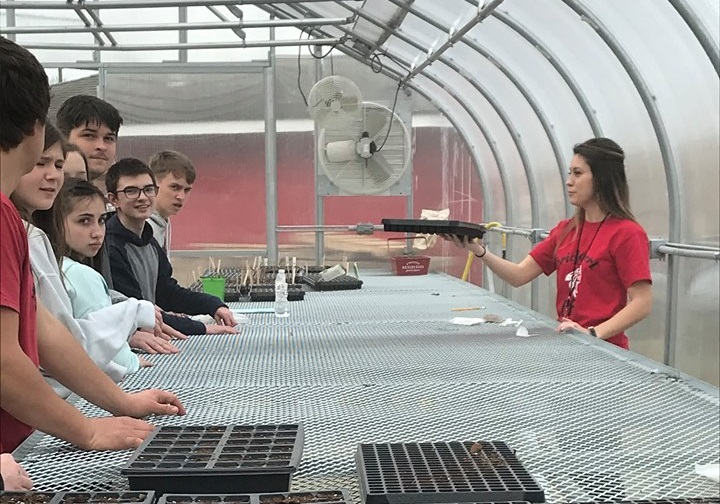 Just in time for Mother's Day and the planting season, the Bridgeport High School Future Farmers of America club is hosting a plant sale; products of the BHS agriculture department's onsite greenhouse. Pending availability of plants, the sale will be held 10 a.m. through 2 p.m. May 5-7 at BHS.
According to teacher in residence, Emily Parent, available plants include petunias, zinnias and immature marigolds, as well as cilantro, parsley, chives, tomatoes, peppers, cucumbers and lettuce.
"Most of the flowers are in hanging baskets and we have a flat of zinnias and one or two flats of marigolds," Parent said.
It's not the entire list the program had planned to harvest. Considering the COVID-19 pandemic and all that has resulted, Parent said she is pleased that the sale is still on and hopes the community will support it.
Students in the agriculture classes had planted the greenhouse plants before the pandemic began and schools subsequently closed.
"When this whole thing started, we thought we'd be out for a week or so and then we would go back and have our plant sale," Parent said. "But after the first week, we realized we had to come up with a game plan."
With Mr. Howard watering regularly throughout the week and Parent doing transplanting and fertilizing on weekends, the plants have flourished.
"This is my first round with a greenhouse," Parent said. "We don't have everything we had planned, but we did what we could, so we'll see how it goes."
All proceeds will benefit the BHS agriculture program, which had been very active and innovative this year, prior to the pandemic.
Hanging baskets sell for $12, six-packs for $2 and six-inch pots for $5.
Social distancing guidelines will be practiced at the sale. There will be one-way traffic in the greenhouse and only two customers will be permitted inside at one time. Customers are asked to stay six feet apart inside the greenhouse and in the parking lot while waiting.
Purchases can be made with checks or through schoolcashonline.com. Cash will not be accepted onsite.