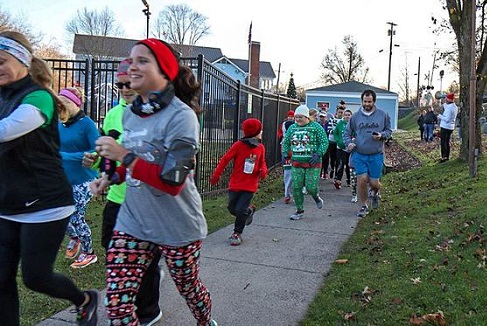 Since 2002, the Jingle Bell Jog 5K has kicked off the holiday season, collectively yielding a couple thousand toys for the Salvation Army Holiday Toy Drive.
That tradition continues in 2022 as the event celebrates its 20th anniversary. Scheduled for 8:30 a.m. Saturday, Dec. 3, the pre-holiday run will start from the Benedum Civic Center.
Participants will jog or walk across Bridgeport City Trail to City Park, making two loops around the park and returning to the Civic Center. Runners often dress in festive attire, bringing even more spirit to the event.
Registration begins at 8 a.m. at the Civic Center auditorium. Rather than a registration fee, participants are asked to bring a new, unwrapped toy to be distributed to children in need through the Salvation Army.
Each year, participants are treated with a token of appreciation and remembrance of the event.
"We've done toboggans, headbands, mittens, and Christmas ornaments. One year, we even did little trophies," said co-organizer Mary Ann Renzelli-Kiger.
This year, long-sleeve T-shirts and wrist jingle bells, all compliments of Hope Gas.
Renzelli-Kiger and Stacy Bolle have organized the event together for 20 years. Renzelli-Kiger shared their inspiration.
"I saw that another state was doing a Jingle Bell Jog, and we added to that for our event. We came up with the idea to benefit the Salvation Army and we usually get about 100 toys each year," she said. "The Salvation Army Headmaster comes to do our blessing and collects the toys."
The Jingle Bell Jog 5K isn't about competition; it's about giving and the start to the community's Christmas season.
"It's our little community event – a fun walk/run/jog; a lovely festive morning to kick off the season. We have people of all ages. Last year we had the Salem Middle School Track Team come all dressed up and we have Boy Scout Troop 40 ring bells along the trail which adds to the atmosphere," Renzelli-Kiger said. "My husband has Christmas music blasting at the soccer fields while people run around them. People come with baby strollers and bundled-up toddlers. The nice thing is they don't have to do the whole course. They can start out walking, experience a little bit of atmosphere then come back if they want.
As always, the Jingle Bell Jog 5K takes place the same day as the Bridgeport Christmas Parade, which gets underway at 10 a.m. (Read about it 
HERE
.) After a two-year hiatus, back this year is the Bridgeport Lions Club Pancake Feed, making Dec. 3 a triple celebration in the city. More about that event is coming soon to Connect-Bridgeport.